If you are interested in the elements of managing a company or business you need to bear in mind that control over finance is essential to detect any problems or deviations from the proposed financial objectives, effectively inform the different areas of them, and, ultimately, to correct them.
Financial control lets you know the status of a company at every moment. It is like taking a picture in high definition to see the exact status of your company or business in terms of treasury, profitability, cash flow and other important parameters.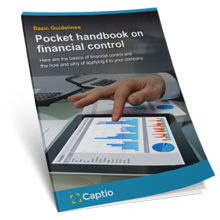 With our free guide to financial control, you will be able to design an effective financial control system for your company.
Download it: Pocket handbook on financial control
This guide will be very useful to you for:
Analysis of the initial situation and definition of objectives.
Establishment of the parameters or standards.
Measurement and analysis of the deviations from the basic financial statements.
Correction of deviations.
Don't miss it and download this free ebook!