Mobile World Congress is the world's largest gathering for the mobile technology industry. It will be held between 27 February and 2 March and, as you know, it's an unmissable appointment for technology operators, manufacturers and providers. We at Captio are very pleased to be participating for the fifth time in this great event.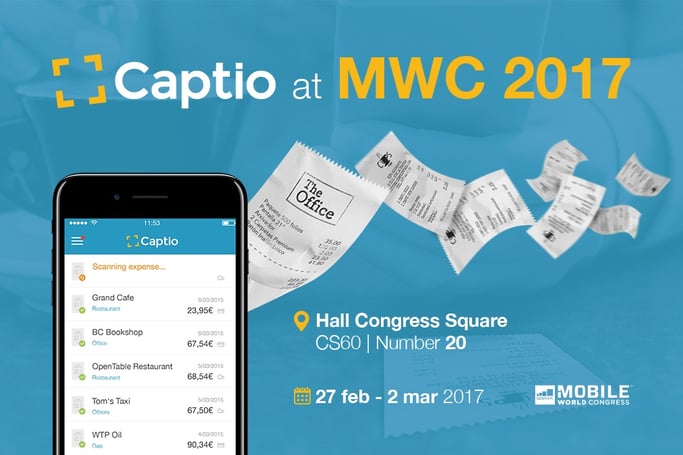 On 27 February Fira de Barcelona will be playing host to the world's largest event related to mobile technology: Mobile World Congress 2017. To get an idea of the importance of the event, just take a look at the figures and speakers from the last edition, an event attended by more than 95,000 visitors, with more than 1,500 participating companies and speakers such as Mark Zuckerberg, founder of Facebook. In short, a resounding success.
And this edition is also shaping up to be very interesting. There is an exceptional conference programme with leaders from adjacent sectors who will be presenting their latest developments and technological innovations. This is Captio's fifth year taking part in Mobile World Congress. First we had the opportunity to present our solution for automating the travel expense management business, then we presented the approval of Captio by the Spanish Tax Agency, and now, in this fifth edition, we are aiming to demonstrate all the advances made so far by Captio in order to make it more mobile, more flexible and more usable than ever.
We are really looking forward to introducing all the visitors at this edition to the new version of an app, that makes Captio even more agile. We have added new features such as smartphoto and real-time alerts for report approval. We have also improved the synchronisation of costs with our servers. We can upload them faster and notify changes in status more transparently.
We have also accelerated the process of capturing several documents at a time. Now Captio allows receipts to be photographed in sequence, which provides a much more satisfying user experience. And that's not all, we have also implemented a major technological change: for the new version we have used Xamarin Forms, a framework for creating mobile applications for multiple platforms from a single code.