Any experienced

corporate t

ravellerraveller
knows what a difference having one seat or another can make to the quality of a flight. A badly positioned seat may mean more noise, less space, greater disturbances, etc. As such, it is worth taking care when choosing where to sit on a flight.

First of all, it is important to take into account that each airline flies with a different model of aeroplane. And each model has a different layout and distribution. There may even be different layouts of the same model of aircraft. Therefore, it may be better to ignore the model and more practical to find out the specific layout of the aeroplane, in order to make a better choice.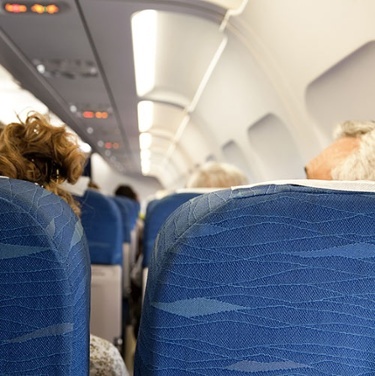 In general, the seats on the emergency row are tempting. They usually have more space for your legs, so they may seem a good option. However, it is important to bear in mind that these seats tend to be narrower, as the tray table is stored in the arm of the seat rather than on the back of the seat in front. Moreover, in many cases, these seats do not recline, particularly in the case of the first emergency row if the aeroplane has two.
Certain locations may also be noisier or subject to more disturbances than others, and should therefore be avoided. For instance, these include the seats near to the toilets, where there are sure to be people constant coming and going, or even queuing along the aisle. Other seats to avoid are those close to the galley, or aeroplane kitchen, or the area where the crew rest, where there is always a lot of movement, chatting, etc. It also goes without saying that it is better to be as far as possible from the turbine, which is the noisiest part of the aircraft.
Certain airlines offer lie-flat seats, which can be reclined to a fully horizontal position, so that the passenger can rest better, stretched out as if they were in bed. However, not all airlines are very exact when it comes to classifying their seats as lie-flat, and sometimes they use the term to refer to seats that are simply reclinable. As such, it is better not to risk it and ask first what type of seat it is.
There are some really handy tools available for Business Travellers, such as SeatGuru, from TripAdvisor, which gives us an overview of the model of aeroplane that we will be flying in, its layout and which are the best, and worst seats in each case.