Spurred by our pledge to ensure the utmost reliability, security and regulatory compliance, Captio has obtained certification under international security standard ISO/IEC 27001. This seal guarantees that we manage information appropriately and securely, allowing us to assure our customers that their data are being handled safely.
We take pride in being seen as an approachable, results-oriented company with top quality service. That is why, aware as we are of how important data security is, we at Captio have decided to implement a Security Management System that meets the requirements of the UNE-ISO/IEC 27001:2014 standard. This certification is an international security standard that intends to define a specific framework for secure information management to identify, assess and minimise the risks that our information and that of our customers are exposed to.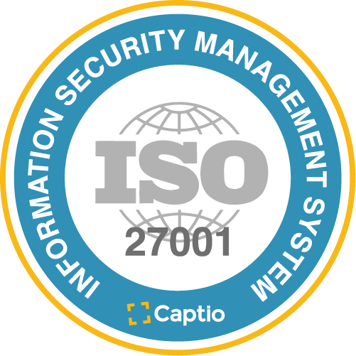 Our compliance with this standard – certified by an official external auditor – proves that Captio applies internationally recognized processes and best practices in its infrastructure and process management. Specifically, it shows that Captio has heeded the recommended guidelines and principles to start managing its information securely, and to continue and improve that process.
Some of the main advantages of being awarded ISO 27001 certification include having a secure software development methodology to work with, a secure communications policy to follow and a business continuity plan that is intended to mitigate the impact any accidents might have on the company, and especially on customers, by applying corrective and preventive measures.
Furthermore this achievement is proof of Captio's promise to meet the strictest of security standards, and of the commitment shown by every member of the organisation to ensure that information is kept safe. Lluís Claramonte, CIO of Captio, added that "We are extremely pleased at Captio to have received this certification, and we intend to constantly work on improving so our product offers the utmost quality, security and excellence."