Last week we introduced a new key element for managing travel expenses in corporate environments, the Captio Portal Administrator.
As we explained in our last post, the Captio Portal Administrator allows expense supervisors to control all the processes related to handling and checking company travel expenses.
In this post we'll try to give a more complete view of the functions it contains.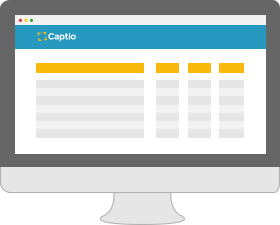 Claim approval
The core of the administrator deals with handling and approving expense claims. This is where all the travel expenses from the company's Captio users arrive. The administrator checks each claim and approves or rejects it. In this way, reporting and approving expenses are integrated within the same environment.
Ah, by the way! Now you can also export the claims in CSV format, as well as PDF.
User management
The information handled by the Administrator Portal comes from users reporting their expenses via the mobile Captio application. Consequently, one basic function of the Portal Administrator is to manage these "expense generating" users of the company.
Environment management
Administrators can control aspects of the platform's configuration and adapt it to their own environment. They can create personalised elements, such as different expense categories and new payment methods specific to the company. They can also set common parameters, such as the rate paid per kilometre in the company and the official currency (this means that receipts in a different currency are converted into the official currency using the exchange rate on the day they were captured).
Graphs and statistics
To get an overview of the company's travel expense figures, the Administrator Portal includes a series of graphs integrated within a control panel. The reference used can be the data from the whole team or broken down by user, showing a detailed view of the status and trends in accounts.
And what is yet to come…
And it doesn't end there. We can't keep still but constantly strive to improve our users' experience. Very soon we'll have the following functions available:
Alerts
Administrators will be able to define alerts that automatically warn them of any irregular situations in the approval process for company expenses. Receipts over a certain predetermined amount, receipts generated at the weekend, expense limits exceeded in specific categories... These alerts can be assigned to specific users or the whole team, and can be adapted to the company's different roles or situations.
Email inbox
The email inbox will be an email address that can receive receipts to be processed by Captio by attaching them to an email. In this way, companies can take advantage of Captio even when they have outdated and/or non-compatible terminals.
And, as you know, the Administrator Portal is available only in the Business version of Captio. If you'd like more details, you can contact us at info@Captio.net.