At a time when the economic crisis is raging, it is essential to reduce the budget related to employee's travel expenses. However, one must be careful as this charge revision must not have negative consequences on the operational efficiency of the company. So, how can this be done? Here's Captio's advice!

What is the maximum amount that can not be exceeded when an employee eats outside? What hotels can he/she stay in? Is he/she entitled to take the train in first class? A company seeking to make savings must first and foremost be organized. That is why it is important to establish a clear and precise instruction sheet. The employee must be able to have access to it easily and quickly. For this purpose, why not put an online version of it on the intranet? Thus, the employee could refer to it at any time of the day or the night.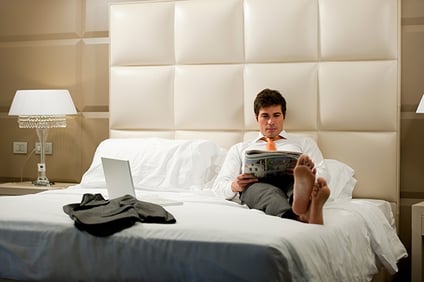 Note that a well-organized company at this level can make up to 20% of savings compared to a firm that has not yet taken the time to put the instructions it wants its employees to respect down in writing.

Another tip: do your upmost when writing the memo for travel expenses. Avoid formulas such as "we recommend you", "it is advised to". You must impose strict rules if you want your employees to play the game: "it is imperative to book your tickets at least three weeks before departure", "proofs of expenses must be kept and provided to pay service".
Finally, have the expense reports validated by a high hierarchical superior. Employees respect instructions better when they know that a highly ranked supervisor is keeping an eye on their travels and the expenses generated.
The hotel: the second expense item
Did you know that companies underestimate the costs of their employees' hotel overnight stays? According to a study carried out by Carlson Wagonlit Travel, it appears that companies are underestimating this expenditure by 12%. Thus, analyzing the needs of one's traveling employees is a priority in order to be able to conduct relevant negotiations with hotels. Do they favor localization? Comfort? The services offered by the hotel? Once this information is gathered, the
company will be better able to choose hotels and undertake negotiations to sign a partnership and reduce the costs associated with this heavy budget.
Impose strict reservation rules
Booking your plane or train tickets in advance can save you a lot of money. Especially when the employees of an entire company make the effort to do so. Ask your employees to buy their tickets at least three weeks in advance. Prohibit the "ticket exchange" option that is only used three times out of ten.
The employer can freely choose the transport mode used by his/her employees. Make them take the train when the travel does not exceed three hours of time. In the same way as for the hotel, bind a partnership with a flight company to lower costs related to airline tickets.
Require detailed bills of expenses
As a matter of fact, employees may sometimes tend to increase their bills of expenses. Over a year and with several hundred of employees, losses can quickly mount up. Hence the interest to require from one's employees detailed and perfectly justified bills of expenses in order to avoid abuses.