With all of the hurry and stress, it is no surprise that when a corporate traveller gets to the hotel and opens their suitcase, they realize that they have left something at home. However, there is no need to worry. In hotels, this is a common occurrence and most of them are prepared for the majority of eventualities and needs of absent-minded guests. What objects can you find in your hotel?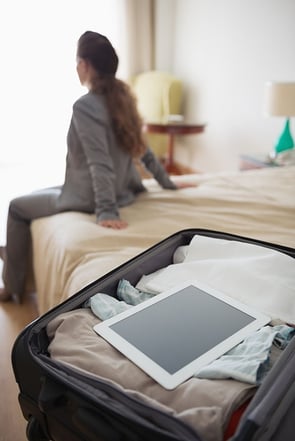 The top of the bill when it comes to things we forget to pack are plug adaptors. Many travellers forget to check the type of plug and the power used in their country of destination and they are faced with not being able to charge the battery of their smartphone, tablet, laptop, etc. Therefore, many hotels lend their guests adaptors, sometimes requiring the payment of a small deposit that is reimbursed when it is returned. To avoid these situations, the best option is to leave a universal adaptor in your suitcase at all times. It is really handy and does not take up much space.
As in the previous example, phone and tablet chargers are extremely important but easily forgotten. An increasing number of hotels have chargers available for guests to use, usually requiring a deposit as in case above. In the event that you have packed the cable but not the plug part, look at the back of the television. Such appliances often have a USB port that can be used to charge your mobile.
Another famous example of things we forget to pack are razors. Moreover, when the traveller only takes hand luggage on a flight, they have to leave this item at home as they are banned in the cabin. Therefore, most hotels offer razors to their guests, as well as the typical products needed for personal hygiene (soap, gel, moisturizer, etc.). The fact is, however, as they are disposable, they tend to be of extremely low quality.
Hairdryers are another standard piece of equipment in hotel rooms. Some establishments go a step further and include beauty equipment such as hair straighteners and even electric razors. However, it is sometimes just easier to head straight for a nearby beauty salon.
Ties, which are so important in business meetings, are also often forgotten when packing. Many hotels have spare ties to lend to their guests, which, curiously enough, are usually those left at the hotel by previous customers. If you have forgotten your swimming costume for the hotel pool or spa, many establishments include this service for a small fee.