Managing travel expenses
is a completely normal task for organizations. 92% of organizations do so, and employees have to travel for the sake of business. Any employee who needs to be on the move in order to do their job will eventually submit an expense report to the company, whether they are a salesperson, a lawyer or a fitter.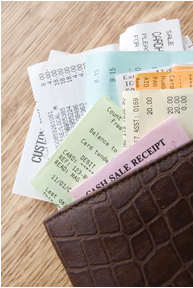 Despite how common this process may be, it has not undergone many changes in the last few years. In spite of the appearance of new devices and tools, paper and paperwork still dominate the process. Generally, this fact gives rise to endless expense management processes that are complicated, inefficient and prone to errors. To get an overview of this problem, there are always two ways of looking at the process: from the point of view of the employee who reports their expenses for them to be reimbursed later on, and from the perspective of the supervisor in charge of reviewing and approving them. However, the problems that arise from a deficient expense management process negatively affect both parties.
Let's use the example of a sales agent reporting their expenses. Every month, they spend time drafting an endless expense report that, in most cases, is the basis of claiming them back. Apart from the time that this administrative task takes up, problems always arise. Every time, they realise that they forgot to pick up the receipt to verify a meal with a customer, or another receipt is stained or so screwed up it cannot be read. After completing this marathon, which is usually done rushing against the clock, they just have to sit and wait, hoping that the reimbursement doesn't take too long. Within the current framework of this process, we can state that, in terms of drafting expense reports, employees in most companies draft them on a monthly basis, often on the last Friday of every month, which is reserved for administrative tasks. They spend around an hour to complete the reporting process in 80% of the cases.
The other part of the process is down to the supervisor. They have no idea how much their team has been spending until, once a month, they receive a chaotic avalanche of expense reports that they have to verify. Reviewing them is a painstaking task and, in fact, there is no way they can review them all, so they have to approve that those that look more or less all right on good faith without analysing them in-depth. It is calculated that one in ten expense reports received is approved, despite not complying with the company's expense policy. This means that the detection rate for 'problematic' expense reports is just 0.15%.
Over the next few weeks, we are going to give a breakdown of a series of strategies, one by one, for the improvement of various aspects of the business travel expense management process. Whether you are the traveller and you want to learn strategies for reporting your expenses efficiently and speed up reimbursements, or the person in charge of supervising a team's expenses and you want to increase visibility and control, be sure to keep reading.